Regular price
Sale price
$39.95 USD
Unit price
per
Sale
Sold out

Are you Sick of Food Spoiling in your Fridge?
Did you know one little device can help?


    The O3-PURE Fridge Deodorizer promotes a clean refrigerator environment
    Stretches your food budget
    Extends food life, reduces food spoilage and eliminates odors
    Strategically engineered for high humidity and cold temperatures inside of refrigerators
    Built in micro CPU intelligently controls the operation cycle & rest modes
    The O3 Pure Fridge Deodorizer Air Washes the contents of your fridge by utilizing nature's cleaner "ozone"
    Eliminates ethylene gas
Custom designed for American fridge capacity, the
O3 PURE Fridge Deodorize
r and Food Preserver
utilizes cutting edge technology, is fully automated and maintenance free. A built in micro CPU intelligently controls the operation cycle & rest modes while extending battery life. It is strategically engineered for the high humidity and cold temperatures inside of refrigerators. Within just a few hours, you'll notice how clean your fridge smells.
Once fruits and vegetables are harvested, they naturally produce ethylene gas. This gas production escalates food ripening causing produce to spoil.
The O3-PURE Fridge Deodorizer will help to keep your produce fresh for longer in your refrigerator. Each variety of fruit or vegetable has its own life span which determines how long you can store the product. Factors which influence how quickly produce spoils include the produce's life span, sensitivity to ethylene damage along with the original condition the produce was purchased in. When using the O3 Pure Fridge Deodorizer you can expect an additional life expectancy of 5 days for your strawberries, 10 days for lettuce, 14 days for peppers and 21 plus days for your oranges. The O3-PURE Fridge Deodorizer will typically pay for itself within 1 to 3 months from date of purchase. For even additional protection from food borne contaminants, pesticides and other chemicals as well, you may consider investing in our
Elite 50 KT Fruit & Vegetable Washer System.


Product Dimensions: 4 x 4.5 x 5 inches
Weight: 10.7 ounces
Share
View full details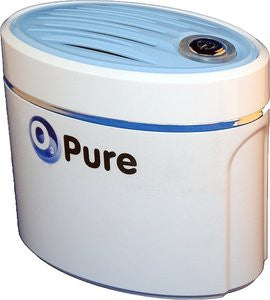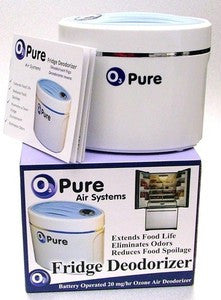 Stinky at first
Be prepared that when first turned on the ozone smell is strong whenever you open the fridge you. I read the brochure because of the intensity and it noted that ozone is produced during thunderstorms. Yup. That was the smell… on steroids. Rest assured that it dissapates after about 24 hrs leaving the fridge smelling fresh and neutral… like after a rain.
It works!
I came across this product by accident and at the time I was so tired of the bad odors in my refrigerator. I had no idea how to stop the odors except for baking soda which does always work for me, but is not always strong enough. I saw this and ordered it, and have not looked back. It as been extremely efficient and when the batteries go out I can tell immediately because my fridge starts smelling. As for keeping vegetables and foods fresher longer I cannot say that I have seen this accurately work. Maybe it has and I never really noticed. If it keeps my fridge smelling fresh then it must be working on veggies too.